No1 in Mobile Ready

Digital Marketing

Solutions

Sophisticated data driven marketing that always looks great on desktops, mobiles and tablets

REQUEST A DEMO >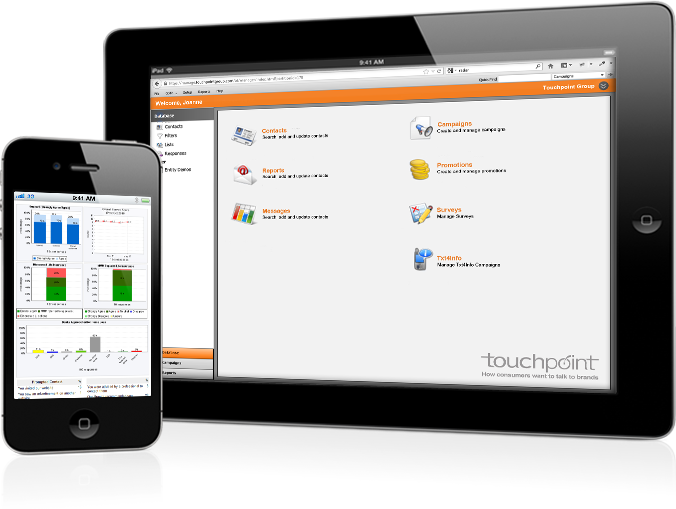 Email Marketing

Easily customise your electronic mailout content, build extensive contact databases, and access important information fast.

Mobile Marketing

Communicate with your customers 24/7 - wherever they may be - and learn to maximise mobile reach and return on investment.

Surveys & Web Forms

Learn what your customers really think by deploying customisable feedback forms at relevant times in the customer lifecycle.

Content Management

Maintaining a dynamic, relevant and informative website doesn't need to be difficult.

Database Management

An accurate, valuable marketing database promotes better campaign results and stronger customer relationships.
Customer Quotes
"Touchpoint work closely with our business from day one on each initiative, ensuring that what is ultimately delivered is what is required. In the work we do with them we consider them more a partner than an 'arms-length' supplier"
Dan Wilkinson, Head of Business Systems AA Insurance

Touchpoint have telecommunication and banking level infrastructure and a robust platform with strict security protocols to ensure data integrity and confidentiality. They have undergone and passed with flying colours several banking security audits by our bank.

"At AA Insurance, delivering a great customer experience is at the very heart of our culture. Maintaining our culture wouldn't be possible without access to honest customer feedback, and a transparent way to hold ourselves accountable for resolving issues and acting on what customers are telling us. AAI deployed the 'OutsideIn' Customer Experience Management technology and this has given us the ability to do this more effectively, by providing everyone in the company access to what our customers are saying, how we're responding, and our customers' views of what our biggest opportunities are" AA Insurance - A Suncorp-Group Company

Touchpoint offer a single view of the customer, providing a true picture of campaign performance; and media measurement tools that enable the 'tweaking' of campaigns part-way through to improve performance.